Sam Hill received his Ph.D. in Religion from Duke University. He is Professor Emeritus in the Department of Religion at the University of Florida where he was department chair from 1972-1977. He has served as a faculty member at the University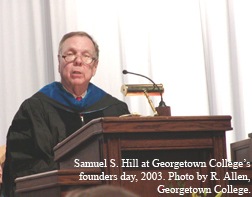 of North Carolina and Stetson University. In 1993 he was Visiting Eminent Scholar at Auburn University. His areas of special interest include Religion in Southern Culture, Religion in American Culture, Modern Western Religious Movements, Comparative Study and History of Western Religion, Politics and Religion, and Social Ethics.

The New Encyclopedia of Southern Culture: Volume I: Religion with general Editor Charles Reagan Wilson (, 2006)

One Name But Several Faces: Variety in Popular Christian Denominations in Southern History. Athens: University of Georgia Press, 1996.

Varieties of Southern Religious Experience. Editor and contributor, LSU Press, 1988.

Encyclopedia of Religion in the South. Editor (and contributor), Mercer University Press, 1984 (revised and updated, 1997 and 2005).

Handbook of Denominations in the United States. Abingdon Press, 1985 (eighth edition). (Successor to Frank S. Mead). Ninth edition, 1990; Tenth Edition, 1995.

Religion in the Southern States. Editor and major contributor. Macon, GA: Mercer University Press, 1983.

On Jordan's Stormy Banks: Religion in the South. Revised and reissued edition of Southern Exposure issues of Fall, 1976. Macon, GA: Mercer University Press, 1983.

The New Religious-Political Right in America (jointly with Dennis E. Owen). Nashville: Abingdon, 1982.

The South and the North in American Religion. Athens: University of Georgia Press, 1980.

Religion and the Solid South. Nashville: Abingdon, 1972. (Editor and major author).

Southern Churches in Crisis. New York: Holt, Rinehart, and Winston, 1967. Published also in Beacon Press paperback edition (Boston, 1968) (revised and updated, University of Alabama Press, 1999).

Baptists—North and South (jointly with Robert G. Torbet). Valley Forge, PA: Judson Press, 1964.
Rotary International Fellowship to Cambridge University, 1955-56.

Post-Doctoral Cross-Disciplinary Fellowship from the Society for Values in Higher Education, 1964-65, to study American Intellectual History at Harvard University.

Tanner Award, 1964, for "excellence in undergraduate teaching," University of North Carolina at Chapel Hill.

Kentucky Colonel

Georgetown College Alumni Achievement Award, 1966.

Teacher of the Year, College of Liberal Arts and Sciences, University of Florida, 1982-83. Finalist for same award, 1988-89.

Distinguished Faculty Award, Florida Blue Key (honorary in leadership), 1988. Sam Hill now resides in North Carolina.