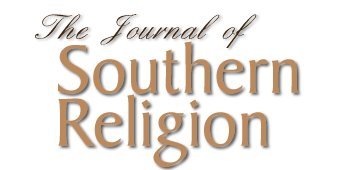 Volume 1, Number 1 1998
---


Editor's Column
RODGER M. PAYNE

Fundamentalism in Recent Southern
Culture SAM HILL

Response to Sam Hill's Essay
BETTY A. DEBERG

All that is Solid (and Southern) Melts
into Air: A Response to Sam Hill's
Fundamental Argument Regarding
Fundamentalism
JOEL MARTIN










The Apostle.
With Reviews by:

Vinson Synan
R. Marie Griffith
Daniel Woods
Joel Martin




Main Page

Masthead

Critical Acclaim for JSR

Editorial Policies

Submissions

Announcements

Advertisements

Advertising Policy

The Journal of Southern Religion
provides advertising and link space
at reasonable costs to individuals and
organizations wishing to display
material of scholarly interest.
For more information, please contact
Managing Editor, Briane Turley.










Christopher H. Owen, The Sacred Flame of Love: Methodism and Society in Nineteenth Century Georgia FREDERICK A. BODE

Jon F. Sensbach, A Separate Canaan: The Making of an Afro-Moravian World in North Carolina, 1763-1840 YVONNE P. CHIREAU

Sylvia Frey and Betty Wood, Come Shouting to Zion: African-American Protestantism in the American South and British Caribbean to 1830 JON SENSBACH

Taylor Branch, Pillar of Fire: America in the King Years, 1963-65 RICHARD KING

A new edition of Eli Evans' The Provincials: A Personal History of Jews in the South MELVIN UROFSKY

James I. Robertson, Stonewall Jackson REID MITCHELL

Christine Heyrman, Southern Cross: The Beginnings of the Bible Belt
Special forum with reviews by



E. BROOKS HOLIFIELD

STEVEN STOWE

ANN TAVES

Paul Harvey, Redeeming the South: Religious Cultures and Racial Identities Among Southern Baptists, 1865-1925 TED OWNBY

James Axtell, Indians' New South JOEL MARTIN

Edward Ayers and Bradley Mittendorf, Oxford Book of the American South PAUL HARVEY

Peter W. Williams, Houses of God: Region, Religion, and Architecture in the United States LAUREN F. WINNER



This project was designed to provide access to people with disabilities. The managing editor welcomes comments and suggestions that will improve the journal's accessibility.




---
© 1998-99 by The Journal of Southern Religion. All rights reserved. ISSN 1094-5234.