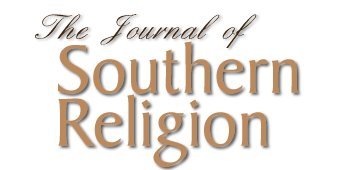 Volume 2 1999
---


Editor's Column
RODGER M. PAYNE

Faithfulness vs. Faith: John Huston's Version of Flannery O'Connor's Wise Blood PAMELA DEMORY

Continued Captivity: A Study of Bartow County Georgia MARK BELL







Main Page

Masthead

Critical Acclaim for JSR

Editorial Policies

Submissions

Announcements

Advertisements

Advertising Policy

The Journal of Southern Religion currently provides advertising and link space at no cost to organizations wishing to display material of scholarly interest to Southern religionists. For more information, please contact Managing Editor, Briane Turley.









This project was designed to provide access to people with disabilities. The managing editor welcomes comments and suggestions that will improve the journal's accessibility.


Andrew M. Manis. A Fire You Canít Put Out: The Civil Rights Life of Birminghamís Reverend Fred Shuttlesworth, DOUGLAS E. THOMPSON

John W. Quist, Restless Visionaries: The Social Roots of Antebellum Reform in Alabama and Michigan, CHRISTOPHER OWEN

Rhys Isaac, Transformation of Virginia, 1740-1790 (With a New Preface), TIMOTHY D. HALL

William Blair, Virginia's Private War: Feeding Body and Soul in the Confederacy, 1861-1865, ANNE SARAH RUBIN

Wayne Flynt, Alabama Baptists: Southern Baptists in the Heart of Dixie, WALTER B. SHURDEN

Miller, Stout, and Wilson, eds., Religion and the American Civil War, EDWARD L. AYERS

Eugene D. Genovese, A Consuming Fire: The Fall of the Confederacy in the Mind of the White Christian South, BERTRAM WYATT-BROWN

Cynthia Lynn Lyerly, Methodism and the Southern Mind, 1770-1810, CHERYL JUNK.

Gregory A. Wills, Democratic Religion: Freedom, Authority, and Church Discipline in the Baptist South 1785-1900 BILL J. LEONARD.

John H. Wigger, Taking Heaven By Storm: Methodism and the Rise of Popular Christianity in America, RICHARD J. CARWARDINE.

Edward J. Larson, Summer for the Gods: the Scopes Trial and America's Continuing Debate about Religion and Science, RANDALL BALMER.

Daniel W. Stowell, Rebuilding Zion: The Religious Reconstruction of the South, 1863-1877. RANDY J. SPARKS

Selma S. Lewis. A Biblical People in the Bible Belt: The Jewish Community of Memphis, Tennessee, 1840s-1960s. ERIC MICHAEL MAZUR






---
© 1998-99 by The Journal of Southern Religion. All rights reserved. ISSN 1094-5234.